Richard

Life-file
"Since being in Germany, I never sleep for more than two hours. I thought I would feel better because of being in a safe country now. But I'm afraid. And if I manage to fall asleep then almost always I have nightmares."

Most of his days Richard's life seems to be a dark tunnel without any light at the end. And as often he checks his possibilities to fight this darkness the result is always the same: hopelessness. As a refugee in Germany Richard is not allowed to live in his own flat, to work and to live the life he dreams about.

"I came to Germany looking for protection. And I'm thankful for being allowed to stay here. But I'm feeling useless. In my home country I worked hard. Why do I not get any chance to be independent? If I'm allowed to work, I could give something back to this country."

Richard is from Tanzania. He doesn't want to go back. He cannot go back. His boyfriend, a famous Politician in Tanzania was killed in February 2018, probably due to political reasons. Richard says the murder is still unenlightened. the spouse of this man, with whom Richard was together for almost six years, has already known for long about that secret relationship. And when her husband was killed she told that Richard was guilty. "She threatened me." - tells Richard. Someday two men are in front of his door. By using a biter, they took two cheek teeth out, as he tells.

"That was the moment when I decided to flee. A friend said: This time it was only your teeth; next time it might be your life. I hope to stay in Germany. If I have to go back to Tanzania, I will get killed. These people search me. If I could live peacefully in Tanzania as a gay, I would have stayed there. I like my home country. I had a job as a Marketing Manager and a good salary. Now I sit all day long in this narrow room. It is dirty. I feel myself dishevelled and ugly. We are treated like monkeys. And all of us get ill and depressed. The 32-year old man arrived in Germany in May 2018, he came to a refugee camp in Fürstenfeldbruck. The camp is made of two-storeyed containers located in an industrial area."

Richard lives with three men in a container room sized approximately 16 square meters, which is only enough for the basic needed things. One table, one locker for everybody, two bunk beds, some bags with food, pots and pans, clothes are everywhere.

His bed, which is lower one, Richard covered around the sides with bed linen, having built some small shelter for himself. Some space, not bigger than 80 times 180 centimetres, the only place where Richard can have some privacy. At this small spot of private area Richard hides from the men, who lie in a short distance near and over him.
"I still feel myself as I would be in my home country. Although I must have no fear to be sent to prisons or to be killed in Germany because of my sexuality.

I think I'm not safe here. Since my roommates found out that I'm a gay, they tease me. They don't call me by my name when talking to me. They say: "Hey, gay". "Hey, gay, post for you." "Hey gay, show your ass." "Hey gay, why don't you clean?" Lately a doctor diagnosed me with a hard depression. I feel so uncomfortable in the camp. I cannot dress in front of others. At night I shout and cry. Sometimes even friends are afraid to come closer to me there."

Actually Richard doesn't have to be afraid for his life anymore in Germany. He found a couple of friends, a place to go for homosexuals in Munich, he wants to be strong.
But in the camp he almost will not resist it anymore. Richard wants to move, and applies to the local authorities for moving to Munich. Officially it is called: Application for relocation.

For Richard moving means more than only to feel himself cosy at home. He wants to be closer to his doctor – and he wants to build his new life. But there is a problem with moving: Only those, who have a family in another camp, can be relocated. "Because You are single and stay without your own children on the federal territory, in Your case the aspect of keeping together one household of the family is not an issue." With these bureaucratic terms Richard's application for the better life was denied.

I'm a human being as everybody else.

"How should I have a wife and children, when I'm a gay?

My life is so hard in Fürstenfeldbruck. Every time when I visit my doctor in Munich, I must buy a ticket. In Munich I would be not only closer to my doctor, who cures my depression. I could also find better contacts to the gay community. And I would go to school every day with pleasure, learn the German language and get some professional education. In Fürstenfeldbruck I work as a volunteer for Caritas. At least I get my head clear there. When my application was denied Caritas helped me. They wrote to my lawyer and asked her if I should send a claim against the decision. But she told me that I have bad chances". Richard gathers all the documents, which could help him somehow in his plans, in one file. "My life file" he has written with capital letters on it. Inside: Medical note from his doctor with the diagnosis about depression. Protocol of his interview with BAMF. Extract out of some newspaper with his photo at work for Caritas. Writings to his lawyer. Richard is prepared.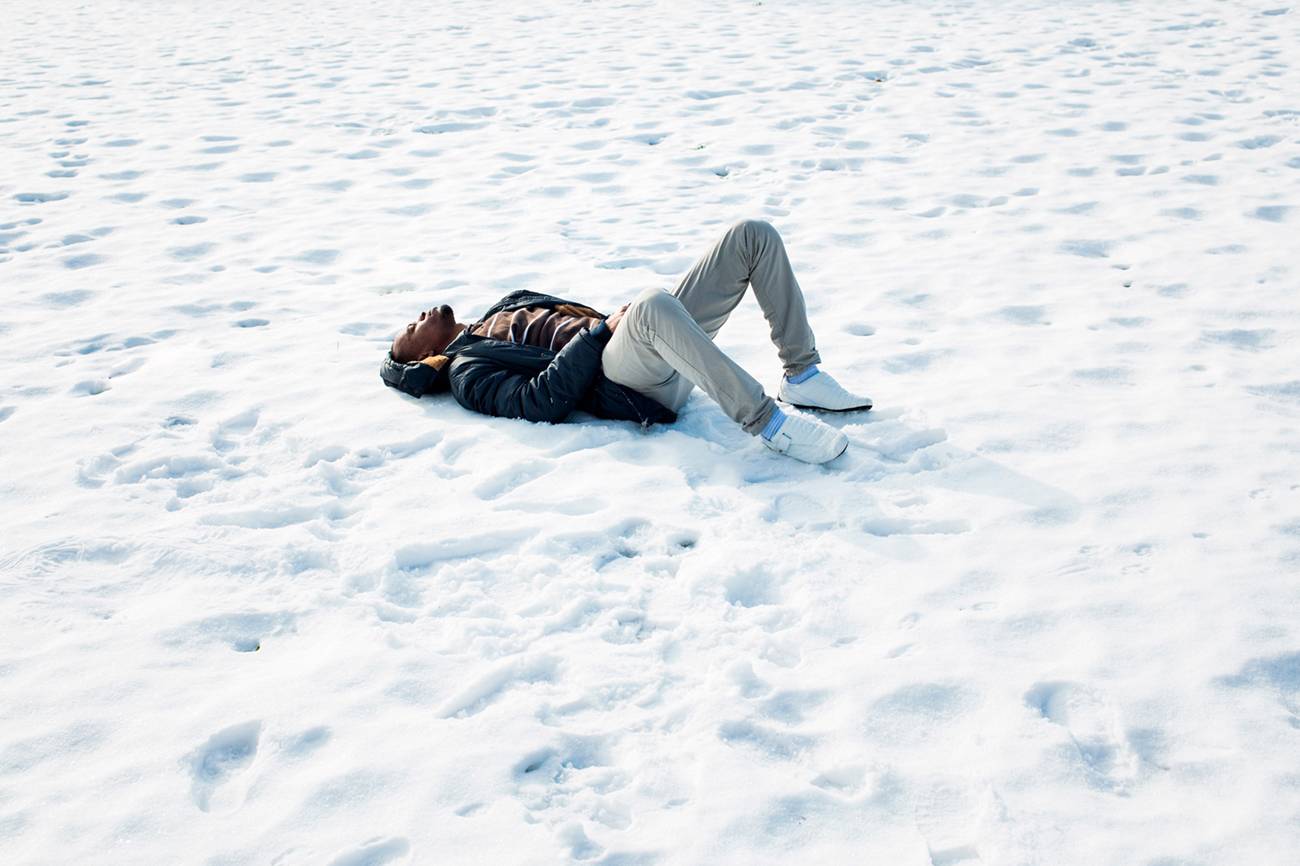 In a notebook he has made some notes with accurate tidy writing about what is important for him. On one page there are three reasons why he wants to leave Fürstenfeldbruck. On another page there are three reasons why he wants to be in Munich. Richard reads both pages in Swahili, stops again and again, breathes in deeply.

He wants to send another new application for moving soon, and collects more documents.

"I'm a human being as everybody else. But my feelings make my life so hard – how I will be treated by many as a gay, makes all more complicated."

Richard closes his "life file". The life, Richard wishes, will start only then, when he doesn't need all the applications, decisions and forms anymore. And until then he doesn't give up.
Text: Laura Krzikalla
Photos: Manuela Braunmüller