Moses

Home without a home
Despite his training as a geriatric nurse and his own income, Moses still lives in a shelter for refugees. He lives 30 kilometers away from his place of work and shares his bedroom with two other men - but not everyone knows about his homosexuality. His own apartment would make it easier for him to feel he has arrived, but high levels of tourism in the holiday resort of Dießen am Ammersee, among other things, makes his search more difficult.
Peißenberg: A peaceful village with 23 restaurants, three medical practices and a small railway station. The area around the station is deserted. In the middle of the empty village stands Moses. With his bright red winter jacket, he immediately stands out. The only thing that is open on a Saturday afternoon near the station is the restaurant of a guesthouse. Shyly Moses enters the rustic Gasthaus Sonne and is the only guest who attracts attention. The rustic wood paneling on the walls and the waitress in the dirndl fit perfectly into the image of a small Bavarian province. If you come from a busy city, it is a bit oppressive to be the only guest in a restaurant. That's how it is for Moses. The 40-year-old comes from Kampala, a city of 1.5 million inhabitants in Uganda. The pulsating capital is the blatant opposite of the 13,000-inhabitant town. Moses has left his homeland, his family and his friends to live and love freely. Sitting in front of his plate of Bavarian roasted liver it seems as if he has arrived, but at the same time he is still searching. Because to really arrive, he needs a home of his own.
After more than three years he still lives in a refugee shelter. He is one of about 100 refugees who live in various flat-sharing constellations here in Peißenberg, "six, eight, or ten people living together", according to Moses. After his first asylum application was rejected, Moses was lucky that with the help of a volunteer from the Rainbow Refugees Munich organization, a residence permit and therefore a work permit were obtained in a second appeal.

The former teacher of mathematics and English also works with people here in Germany. Immediately after his arrival Moses did an internship in a retirement home in Dießen am Ammersee. His employers were so satisfied with him that they made it possible for him to train as a geriatric nurse. "The work is very fun, and I even get a Christmas bonus," he says enthusiastically. In his free time, he also works as a volunteer coach for the ice hockey team in Peißenberg. But all this hasn't changed his housing situation: Despite his own income, he shares a small bedroom with two other men. And there's a reason for that.

The idyllic holiday resort Dießen has more than 100 free rooms, which are rented by private persons to holidaymakers. But Moses is not a holidaymaker, he is a worker. For half a year now, he has been looking for an affordable apartment near his workplace. The problem: "It's expensive and there are no apartments," says Moses. In Munich you sometimes have the opportunity to move into a shared flat. "But in Dießen there are no shared flats, the people there are very private", Moses adds.

It seems paradoxical: because Moses wanted to work as quickly as possible, he is now tied to a holiday resort where tourists are easily accommodated, but desperately need caretaker like him are not.

Therefore, he has to commute 30 kilometers to work every day and continues to live in a shelter for refugees. Not all of his roommates know why he had to flee Uganda. The reason for this was homophobic attacks, which Moses experienced in his homeland. One day a group of aggressive men ambushed him. They broke into his house, attacked him and his friend and inflicted serious injuries. They told them: "We will hunt you. What you do is forbidden." This vigilante justice finally drove him to flight.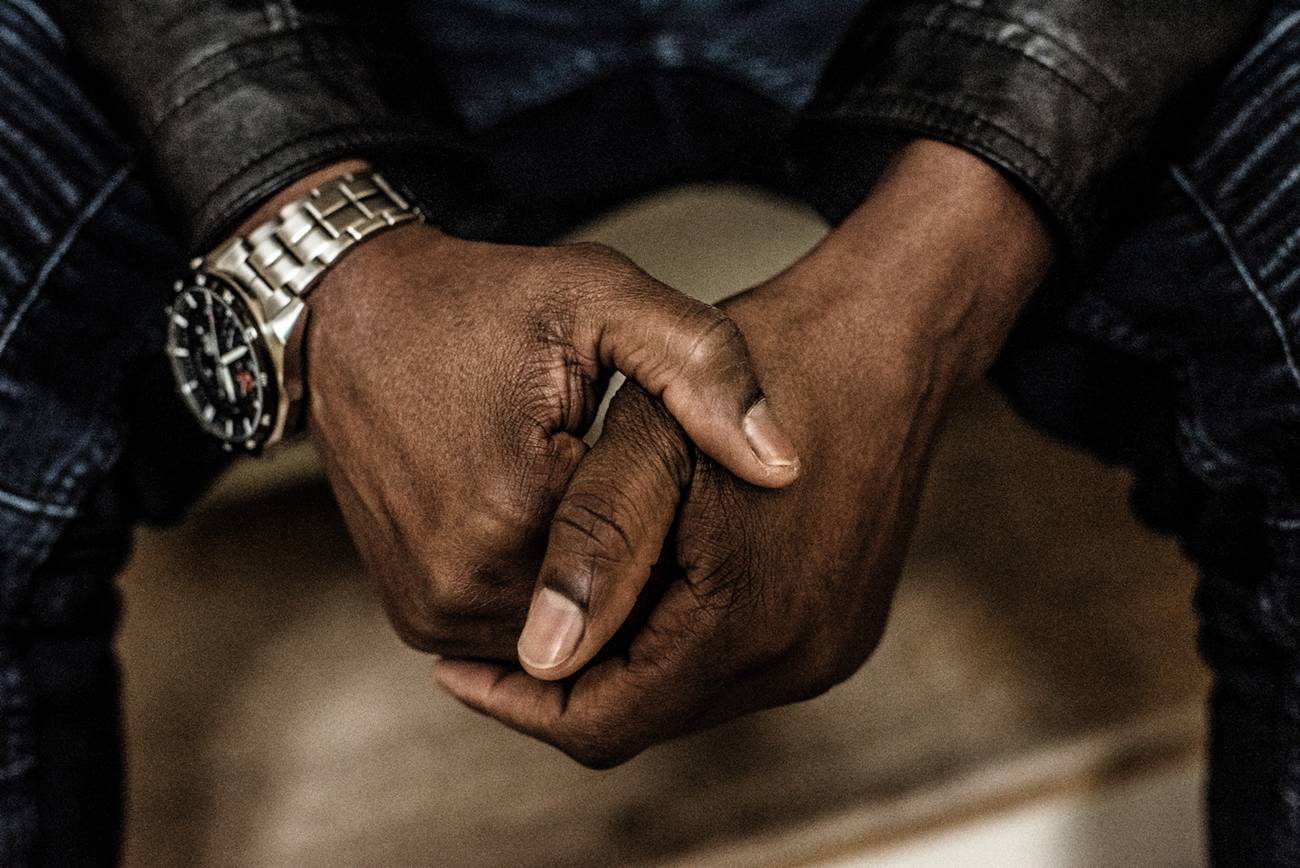 Having arrived in Germany, he still cannot live a completely carefree life. Thomas Michel, co-founder of Rainbow Refugees Munich, is a volunteer for LGBT refugees and knows the problems they face in the shelters: If it becomes known that a refugee is gay, he is at least socially excluded, but often also physically threatened. "That the refugees keep their sexual orientation secret in their shelters is the rule - not the exception," he explains. So, people come to Germany to live in freedom, yet have to hide in their own four walls. Michel has seen a possible solution in several other federal states: designated protected shelters for LGBT refugees. But in Bavaria these protected accommodations are not a matter of course. Not everyone is aware of the danger a collective shelter poses to homosexual refugees. As homophobia is deeply rooted in individual cultures, the shelter can become the scene of hostilities for LGBT refugees. "When there are people in the shelter who don't want to hear that you're gay, some people start insulting you. Some people don't even share their food or other things with you," Moses reports. Some of the attacks go beyond insults, but until that happens, it is gambling with people's lives. Michel explains:

"If refugees are exposed to homophobia in their shelters and something happens to them, then of course they are moved to other shelters. But until something actually happens to them, they must stay there."

A place of his own would be the solution for Moses and would finally give him the feeling of a new home. Moses currently has a volunteer mentor at his side to help him find accommodation. The voluntary mentors' own initiatives are so far-reaching that they even rent apartments and, with the landlord's consent, sublet them to the refugees, "because as Germans we have a better chance to get an apartment," says Michel.

For Moses it is clear that he wants to arrive in Germany in the right way and pay his rent himself with money he has earned. He is confident and is already planning his future housing situation together with his partner: "If we have money, then we can rent a house together", Moses says, "or an apartment, in Uganda it's different - a house is cheaper than an apartment". he adds laughingly.
Text: Leonie Hudelmaier
Photos: Janina Laszlo